Financial Crime Consultants and Law Firms
Sanction Scanner saves time from manual work with name and negative media scanning products for Financial Crime Consultants and Law Firms.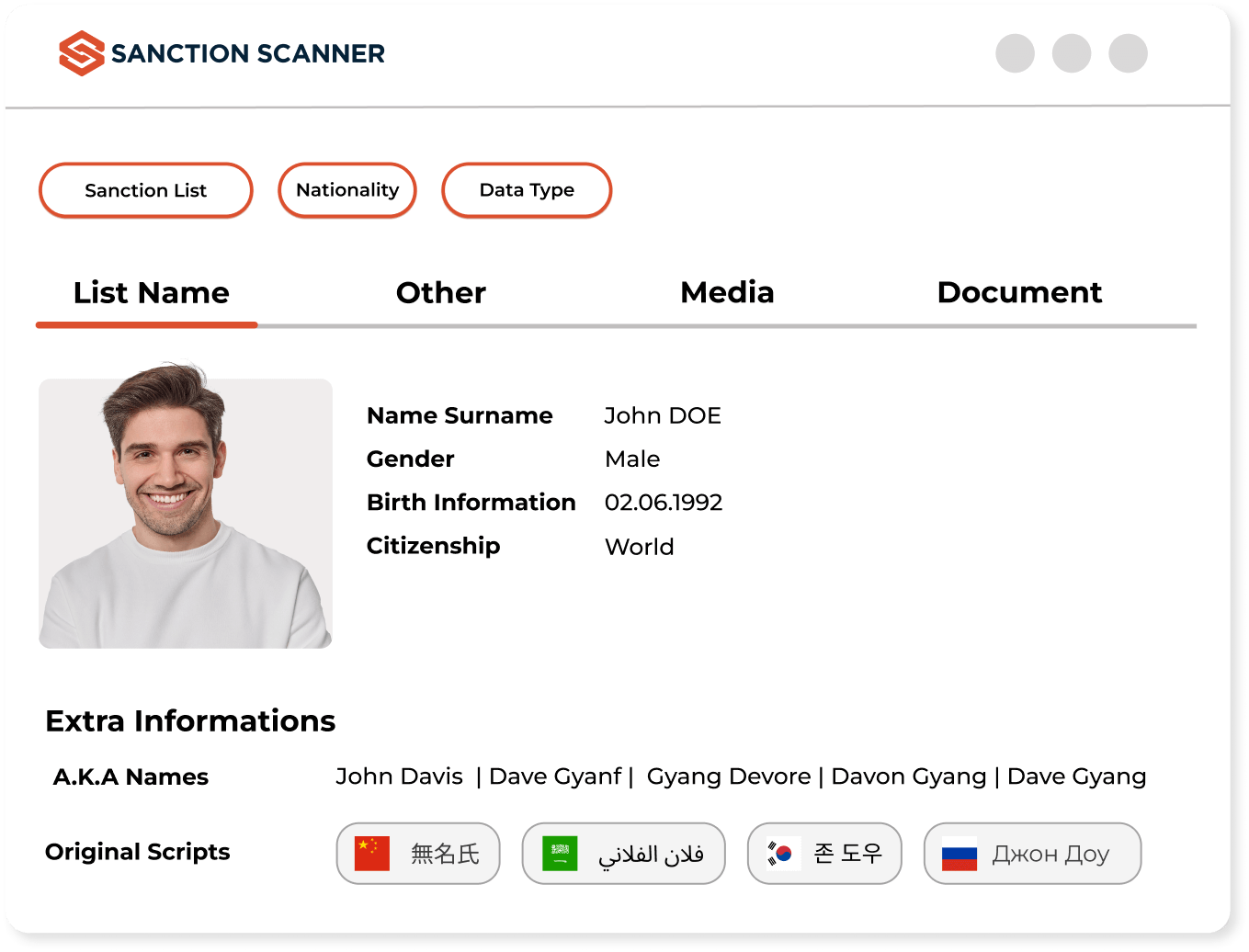 Trusted by Over 300 Clients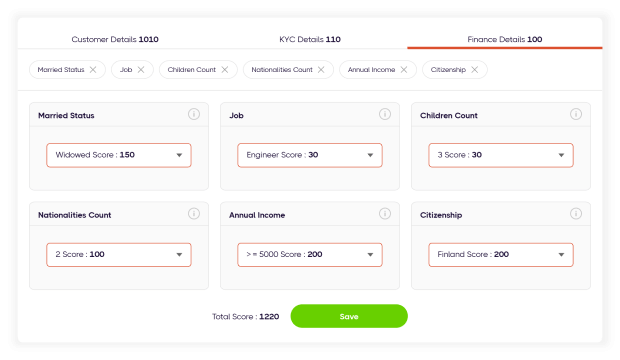 Challenges
Money laundering has regulations and updates in different laws in many different countries. These rules may vary and show flexibility regionally.

Financial Crime Risk Analysts are responsible for providing expert advice on financial crime risks. This expert advice will help companies minimize their risk level and are protected from large fines.
Real-Time AML Data
Structured real-time sanction data
Enhanced Profile
View all results in one profile
Global AML Data Coverage
Lists from more than 200 countries
Up-To-Date Data
Stay safe with data updated every 15 minutes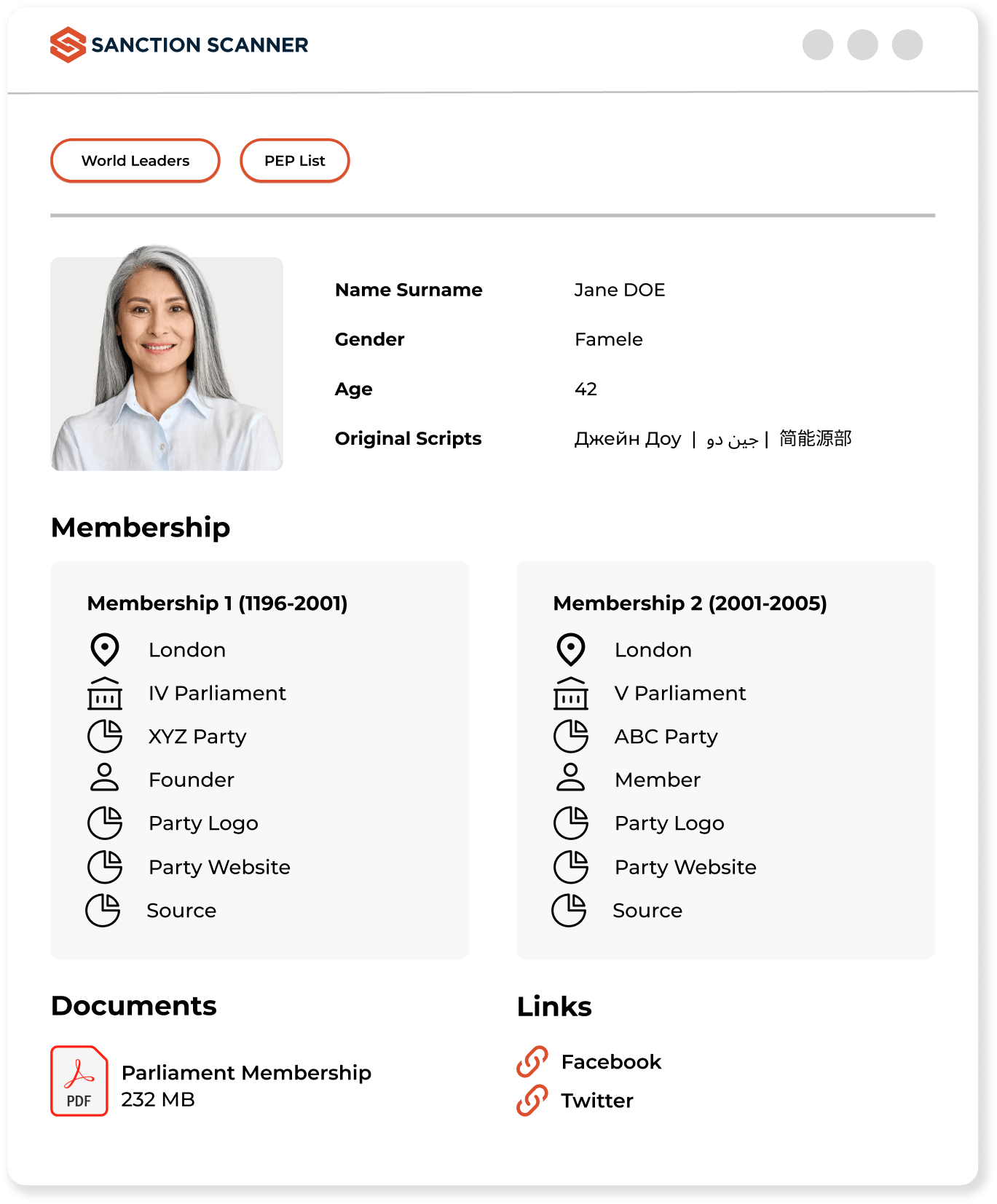 Streamline AML Compliance Processes
Sanction Scanner provides compliance software service for AML Compliance Officers. Many features such as Customer Onboarding and Monitoring, PEP and Sanction Screening, Know Your Customer and Customer Due Diligence, Automated Daily Ongoing Monitoring ensure that your company complies with regulations and prepares Anti-Money Laundering operations.
How Sanction Scanner Helps?
Here are a few reasons why Financial Crime Consultants and Law Firms choose Sandbox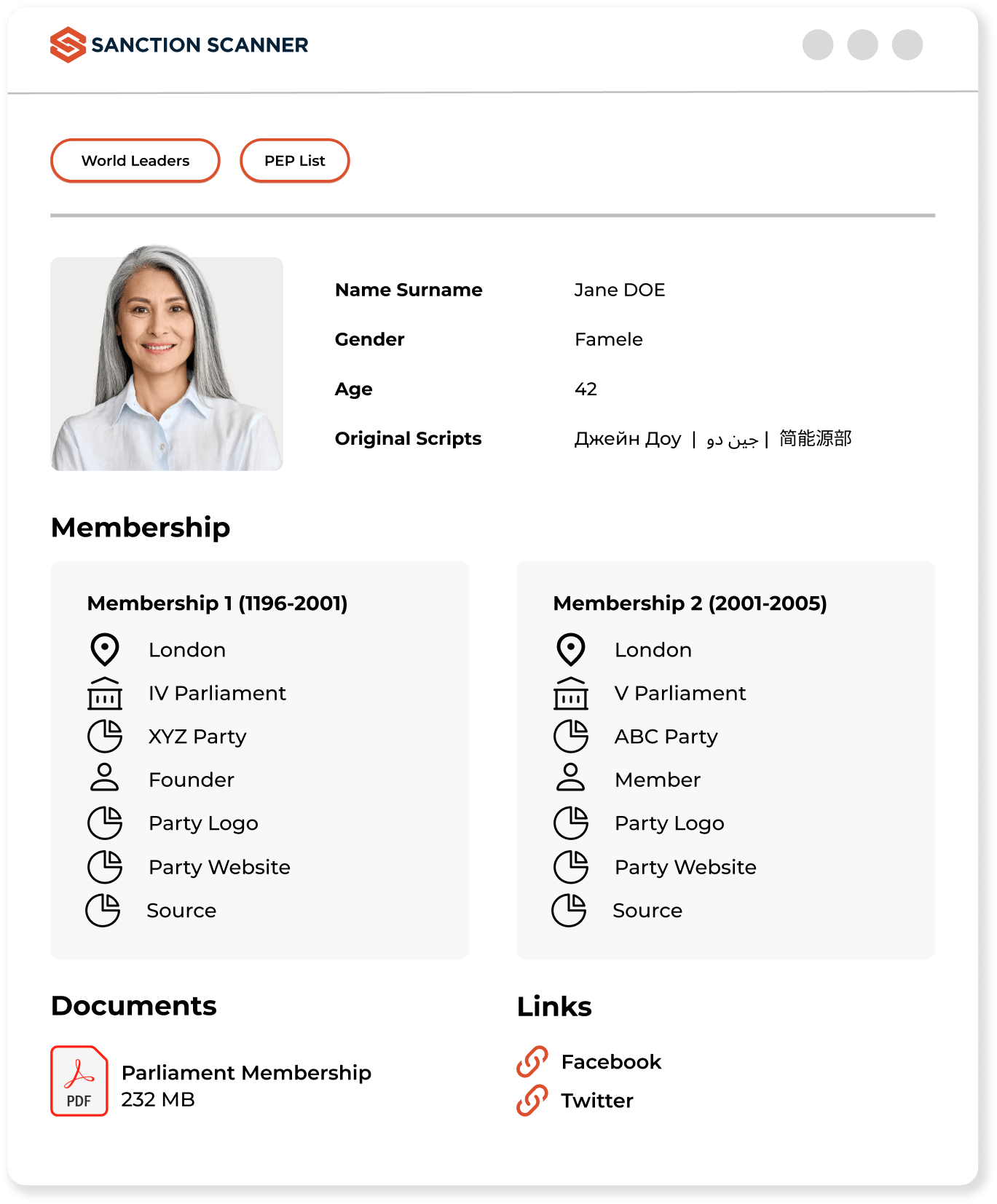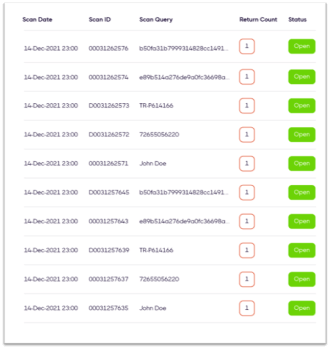 Enriched and Structured PEP Data
Sanction Scanner examines through lists of Politically Exposed Persons (PEP) and other individuals with a high risk of financial crimes and compiles information about them in a detailed and organized manner. Our PEP Scanning Service meets the AML requirements of FATF, the European Union, and local regulators. The lists are updated every 15 minutes, reducing the margin of error.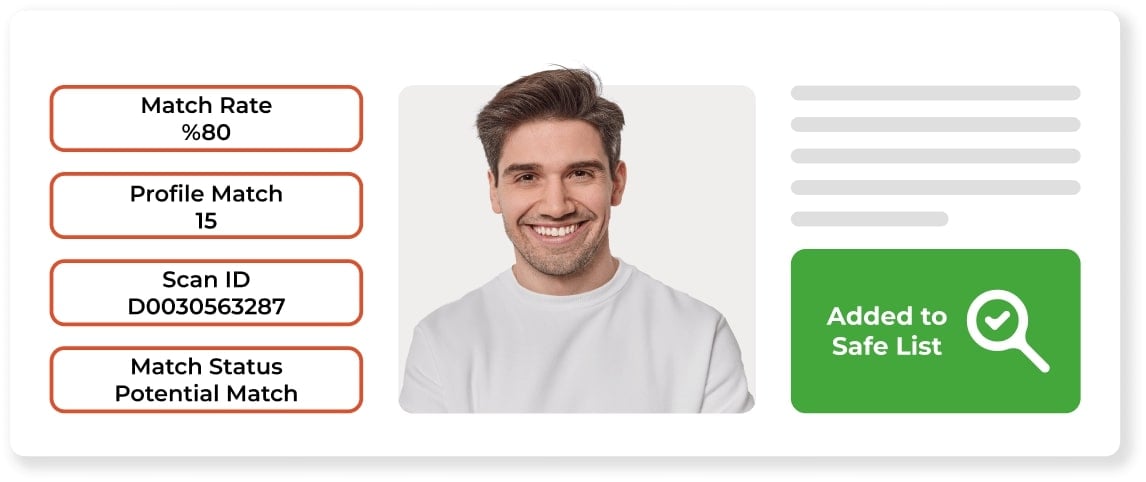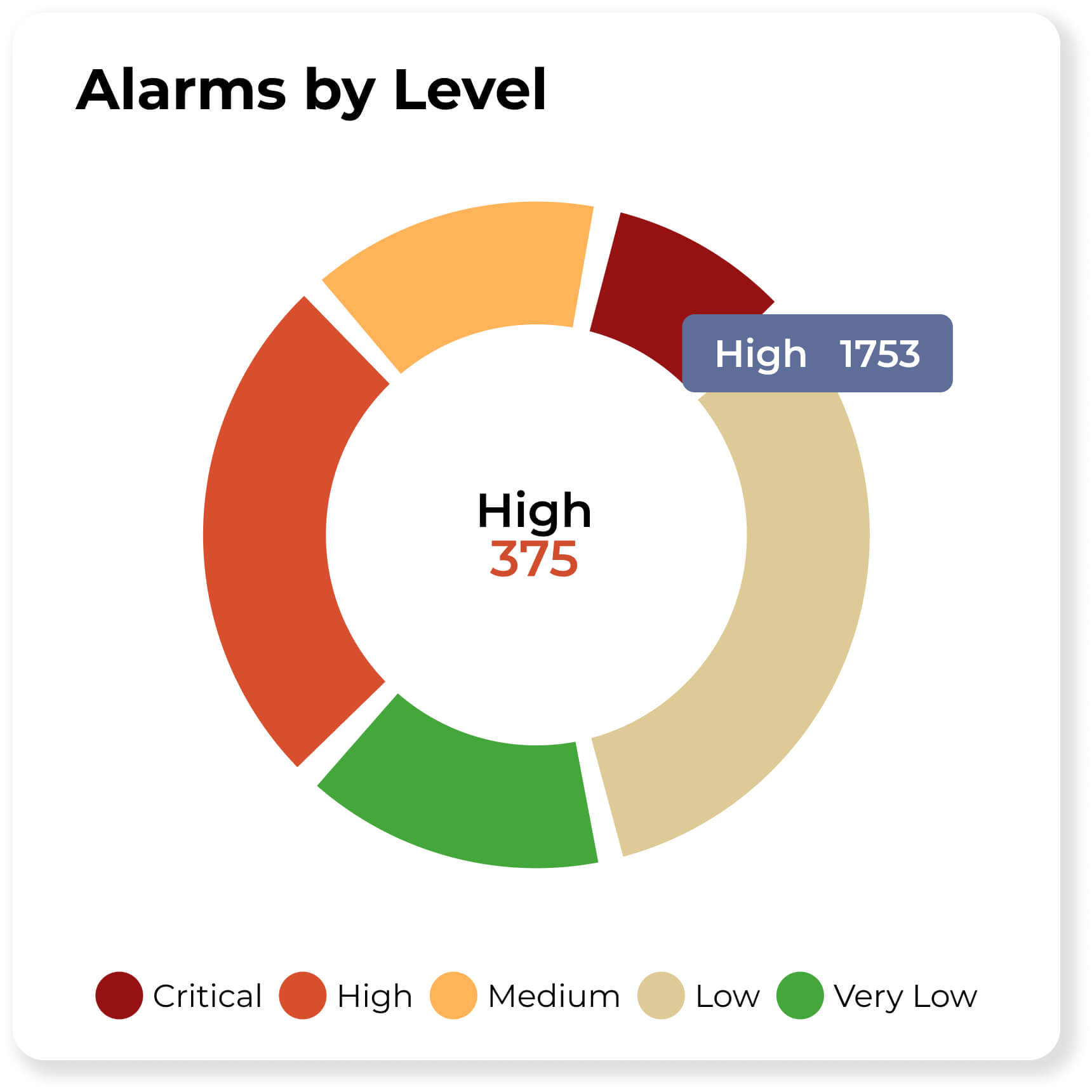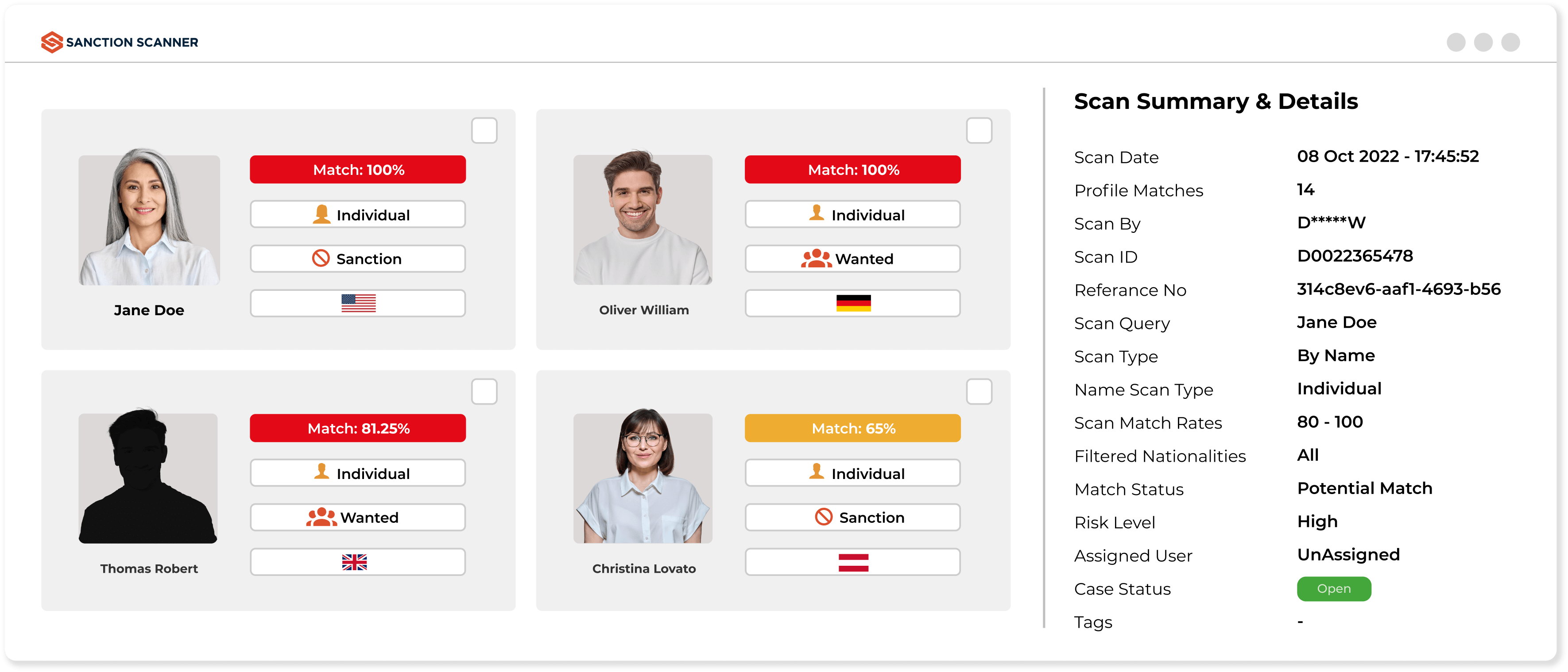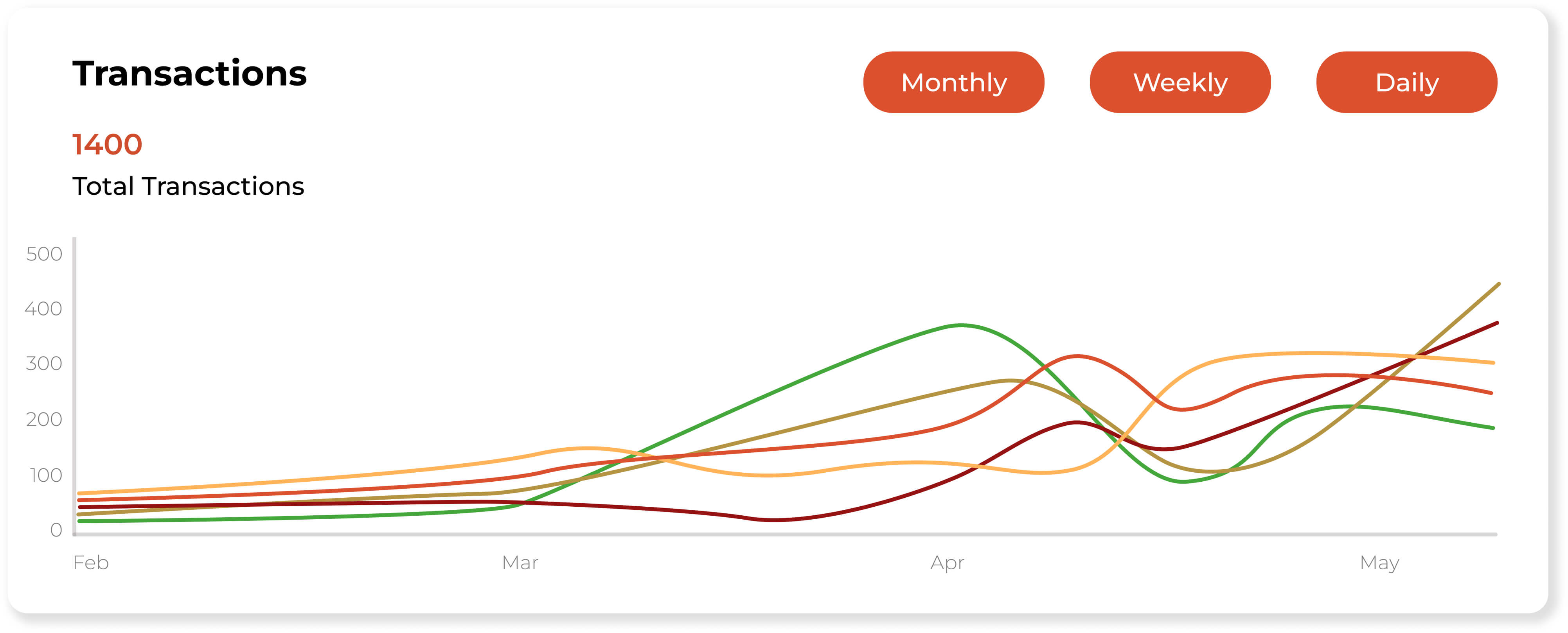 Automated Daily Ongoing Monitoring
High-risk customers should be checked periodically due to the threat of crime. Automated Daily Ongoing Monitoring is applied to periodically check high-risk customers on Sanction and PEP lists. The Automated Daily Ongoing Monitoring Process protects businesses from risks such as non-compliance and loss of reputation. Businesses can plan the control time period according to their risk profiles; then, all customer monitoring checks are performed automatically by the Sanction Scanner.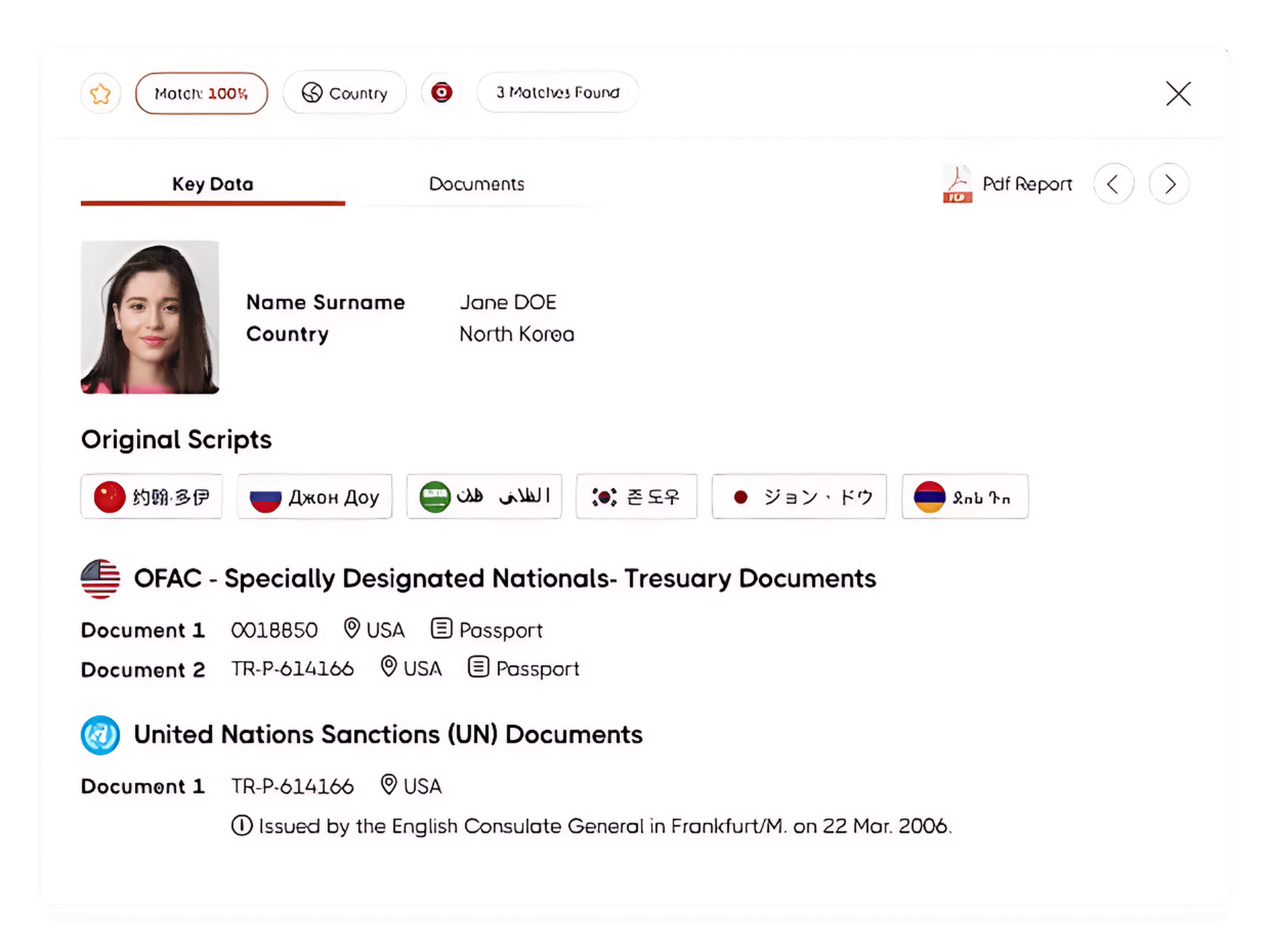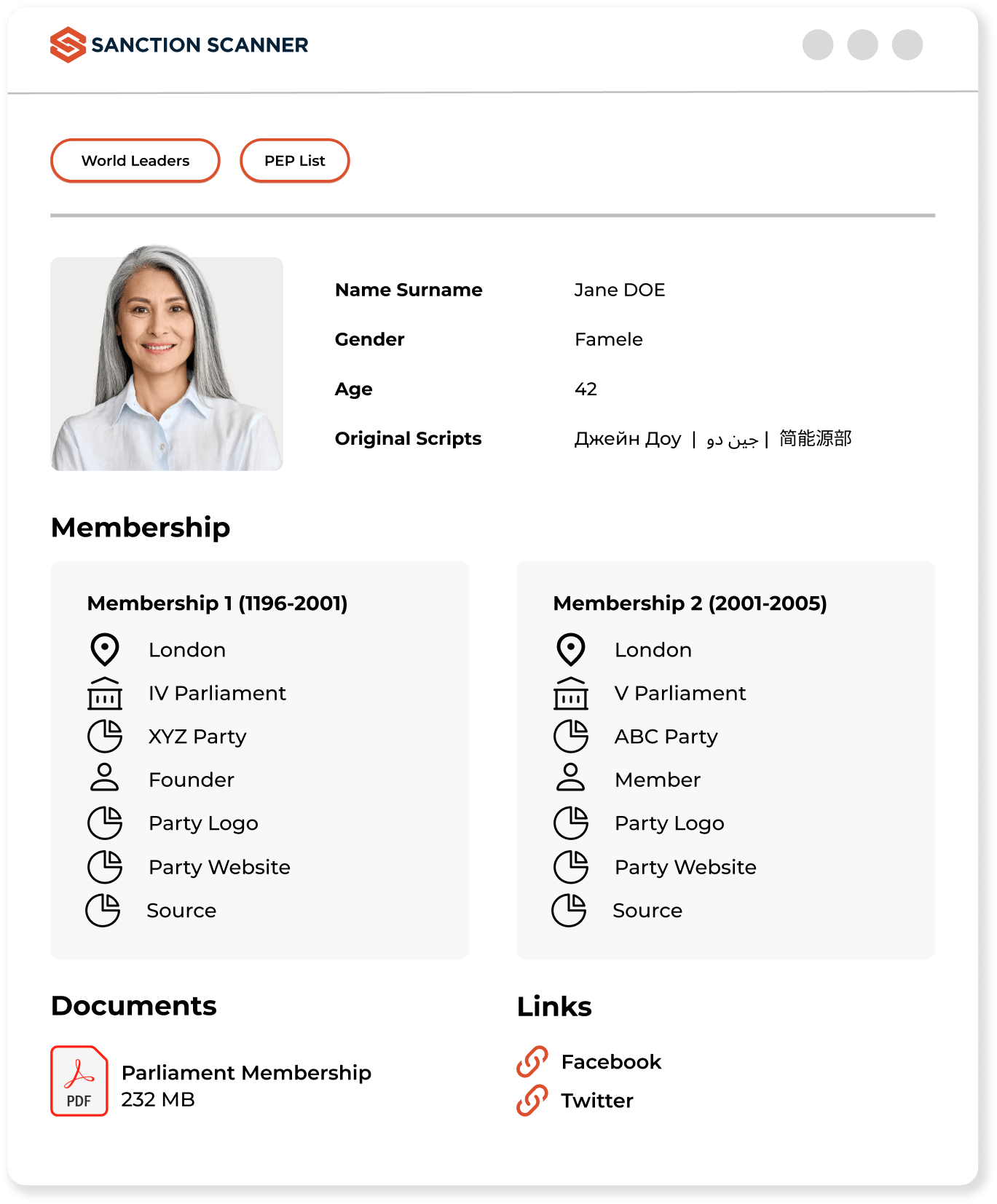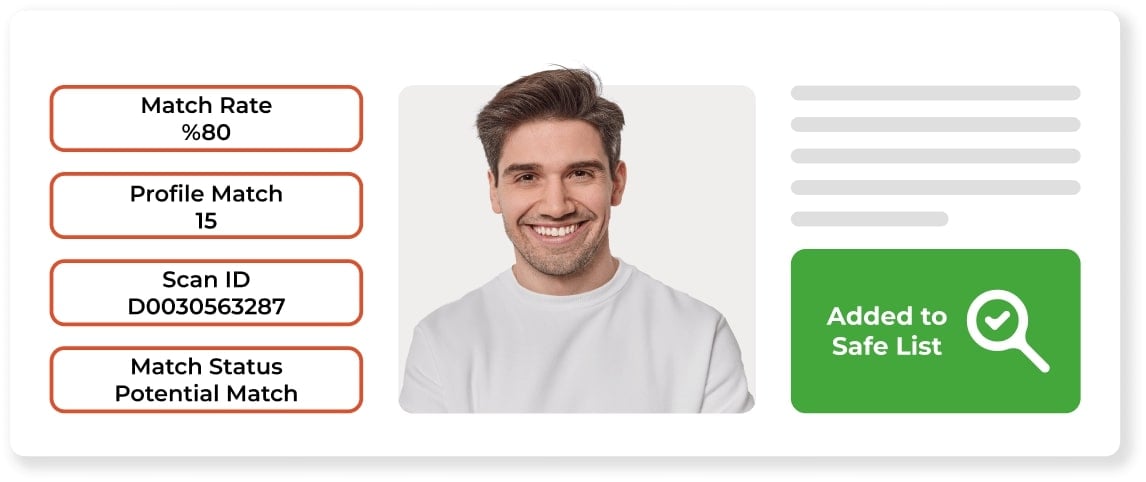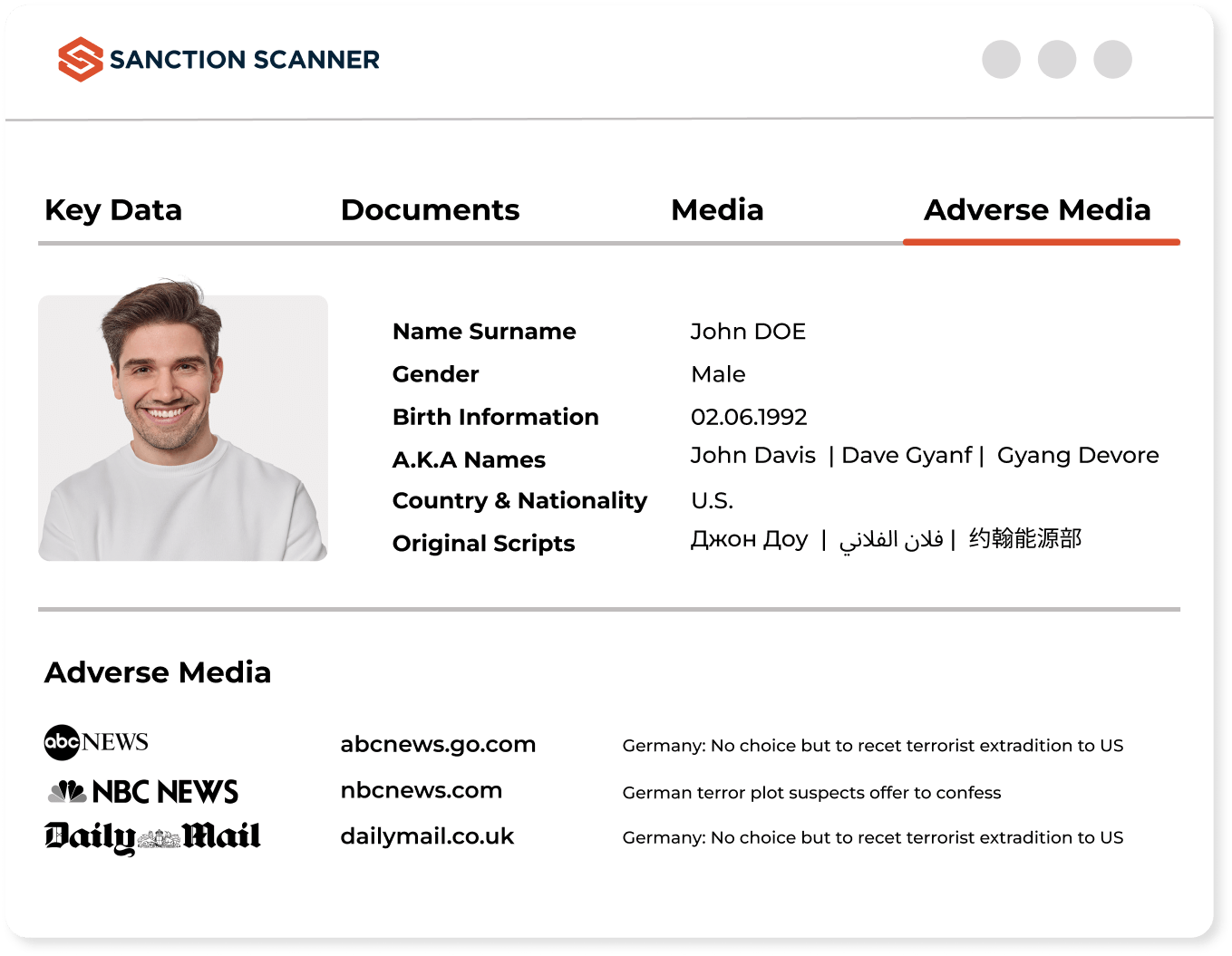 Multiple Search Options with API, Batch, and Web
Through its powerful, seamless and multiple API, you can easily integrate your projects into the system. With our Adverse Media solution, you can perform Adverse Media checks via API, batch files, or the web. Perform your checks with it, which is the most convenient method for your business.
Happy Customers
"Sanction Scanner provided professional solutions that accelerated our compliance processes with the regulations of the regulatory authorities in the gambling industry, while also providing a fair price and safety."

Carl Henriksson

Ceo at Loistokasino
"Sanction Scanner provides a high degree of control via its case management system. Automating all operations with the API significantly reduces manual workload and time spent managing alerts."

Arda Akay

Head of Compliance at BPN
"With Sanction Scanner, we reduce the risks of money laundering and terrorist financing by controlling local and international lists and avoiding risks during our onboarding process."

Onur Ergüney

Board Member at Payguru
Ensure AML Compliance
with Sanction Scanner