We live in the age of technology, and at many points, most people find it essential and could not live without it. Nevertheless, the place of technology in the fight against financial crimes is of great importance. Technology plays an important role in strengthening the fight against financial crimes such as money laundering, drug trafficking, and tax evasion. Criminals are discovering different ways to be caught and laundering more money, and the existence of technology and intelligence technologies were necessary to detect these ways.

How Technology Simplifies KYC and AML Processes?
Before answering this question, let's understand what AML and KYC are and examine their differences. Anti-Money Laundering (AML) includes laws and regulations to prevent financial crime. Each country has a different AML regulation or law. Besides, Know Your Customer (KYC) procedures are just one of the anti-money laundering compliance policies. KYC includes practices to recognize the customer or an employee at the moment of first participation. For example, it is a procedure in which the answers to the questions about whether the customer is the person they say, his/her name, age, and where he is from.
All organizations at risk of money laundering must have Anti-Money Laundering compliance. Otherwise, they face regulatory penalties. However, it may not be easy because they contain very heavy substances and are constantly updated. Thus, technological solutions supported by artificial intelligence have emerged to comply with the regulations and minimize money laundering risks.



Solutions that Ensure AML and KYC Compliance
With AI-supported AML solutions, you can easily comply with regulations and laws by all regulations, and you can minimize your financial risk and protect yourself in every sense. Easily ensure your AML and KYC compliance with Sanction Scanner's AML solutions.
AML Name Screening
With AML Name Screening Software, one of the basic requirements of a risk-based approach, sanctions, and PEP Scanning services can be performed, meet global and local AML obligations, and be protected from legal penalties. Organizations can control the counterparty company executives by performing UBO control in their business partnerships with Sanction Scanner. With the continuous monitoring feature, changes in the risk levels of the customers can be automatically controlled. With AML Name Screening, you can perform Customer Due Diligence (CDD) and Know Your Customer (KYC) transactions in accordance with the obligations. The Sanction Scanner database consists of sanction, PEP, and Adverse Media data from more than two hundred countries, and all this data is monitored in real-time. Also, our database is compatible with the regulators of all regions.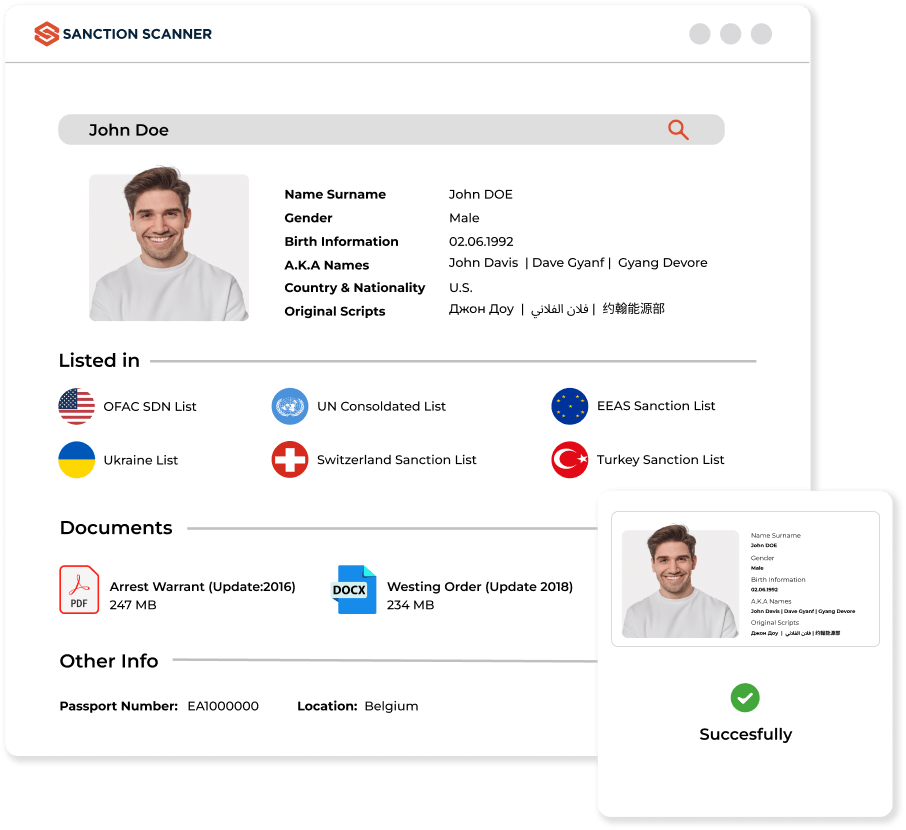 Transaction Monitoring
Every financial Transaction that your business mediates carries the risk of crime, such as money laundering. Therefore, Transaction Monitoring Software is a legal requirement for businesses under AML obligations. Sanction Scanner AML Transaction Monitoring software provides end-to-end features that enable companies of all sizes to counter ML / TF financing. Organizations can create their own rules and scenarios without coding knowledge to detect high-risk and suspicious activities automatically.

With the Advanced Sandbox Testing Environment, changes made to rules can also be tested on existing transactions. Furthermore, with our real-time alarm system, you can see the transactions' alarms determined according to your scenario and rule set and the transactions' alarm levels (1-5). You can also choose the most suitable scenario for your business from our more than 40 ready-made rule sets compatible with every sector, and you can quickly integrate our Transaction monitoring tool into your system. You can also create different rule groups specific to your customer segments.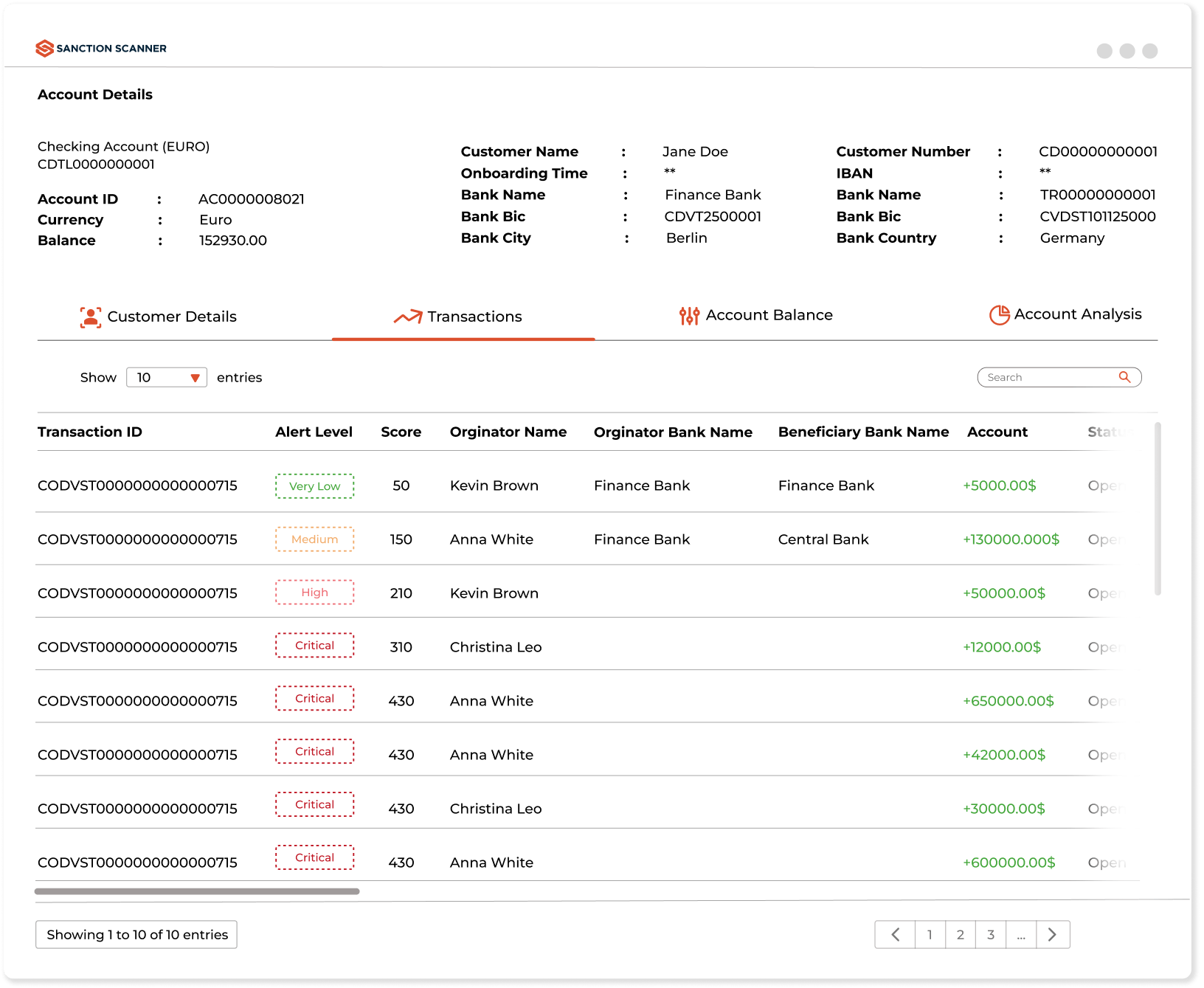 AML Transaction Screening
With the AML Transaction Screening tool, banks, payment companies, and money transfer companies check the receiver and sender without delay. Businesses can reduce financial crime risk by controlling the sender and receiver of this data within seconds. Organizations can also create their own search options with advanced search parameters, reducing false positives. Sanction Scanner solutions work with special algorithms developed with artificial intelligence. More complete results are provided by structuring the data it collects. Organizations can also control financial transactions with various preferences such as name, identification number, and passport number.

Adverse Media Screening
Adverse Media Screening is defined as the service that enables searching for negative media news about a person or business. Adverse Media Screening, an essential part of Know Your Customer and Anti-Money Laundering processes, enables businesses to identify and protect from risks. Sanction Scanner's global coverage of Adverse Media data includes news on money laundering, terrorist financing, corruption, arms trafficking, human rights violations, bribery, drug trafficking, and tax evasion. Institutions can support AML compliance processes by performing Adverse Media control in addition to sanctions and PEP scans in the Customer Onboarding Process with Sanction Scanner.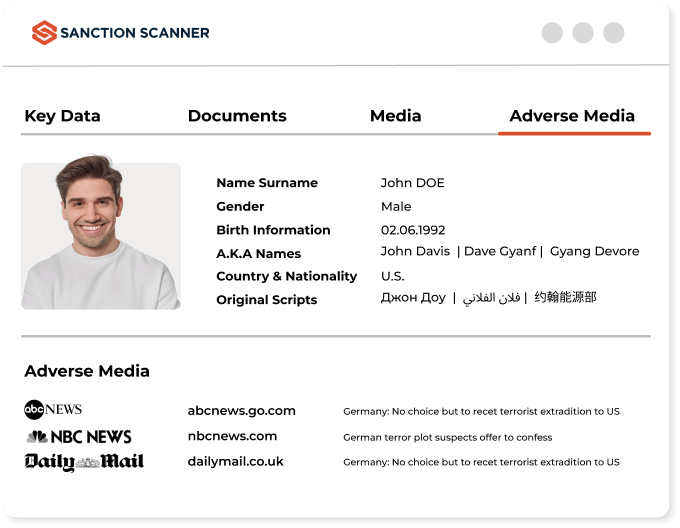 As a result, institutions at risk can protect themselves from regulatory penalties and reputation losses with the artificial intelligence-supported solutions of Sanction Scanner. Contact us or request a demo; we will minimize your risk and fight financial crime together.